Recently, there have been some service provider changes that may be affecting your VoIP phone system support here in Worcester. You might be okay with the changes, you may be looking for new support for existing systems, or you might be looking for a new solution altogether.
We've put together the following post to help you better understand VOIP, and things you should consider when determining which is the best VOIP phone system for you.
What's VOIP?
VoIP or Voice over Internet Protocol is a method of placing and receiving phone calls over an internet connection.
VoIP phones connect to a switch or router that is connected to the internet. When a call is placed, the VoIP solution establishes the connection and exchanges data packets between the sending and receiving devices. The data packets are converted into the sounds you hear when you communicate over the phone.
With advances in and increased availability of broadband communications, VoIP has become an attractive solution for phone service for consumers and businesses. VoIP often results in significant cost savings over traditional analog phones.
According to a recent survey, small businesses saw the following cost savings with a VoIP solution:
90% on international calls
40% on local calls
The survey also found that companies could save as much as 75% on operational costs.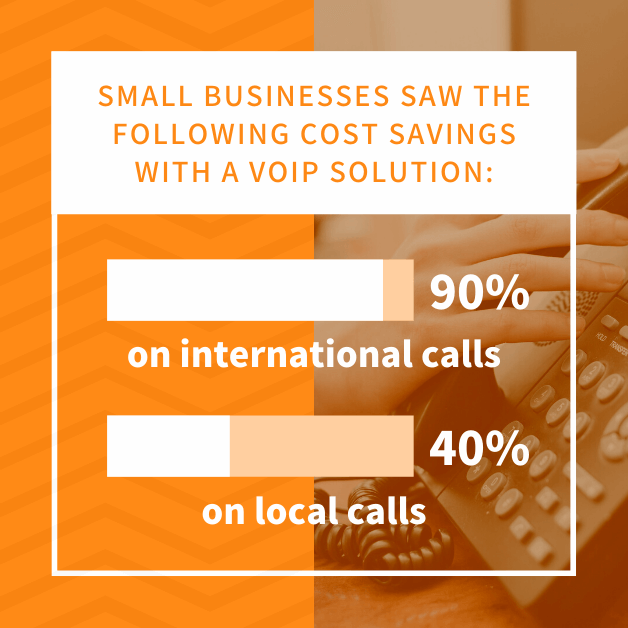 In addition to lower costs, VoIP solutions can offer a range of features such as call recording, call forwarding, and voicemail. Many solutions offer reporting and voice assistants as part of their software solution. Depending on the VoIP software, the IP phone system can be configured to support conference calls and multi-party connections.
Common Features of VoIP
No two VoIP solutions are exactly the same. Most solutions have a range of features such as music on hold, call transfers, and call forwarding.
The best VoIP phone system for a small business, or any sized business, is the one that has the features to meet your business needs. Some common features include:
Call Forwarding
Automated Attendant
Call Hold
Call Recording
Caller ID
Voicemail
Conference Calling
When looking for the best VoIP business phone services, make sure the features are a fit for your business. Don't be swayed by the "nice-to-have" features if the solution doesn't have the "need-to-have" capabilities.
Call Forwarding
Call forwarding means customers' calls are answered– the feature allows individual phones to be programmed to forward the call to another device. Alternatively, some VoIP systems allow call forwarding to be implemented as part of the auto-attendant feature.
Automated Attendant
The top feature of the best VoIP business phone services is the auto-attendant. This feature allows the business VoIP system to answer all incoming calls and route them to the appropriate phone using routing rules. These rules can be configured to offer personalized options for every business.
Call Hold
Placing a caller on hold is a basic feature of a business phone; however, being able to place a caller on hold and transfer them to the correct extension is a feature of most VoIP systems. With older systems, the caller was placed on hold and transferred to the correct extension manually.
Call Recording
A call recording module allows companies to record some or all of their calls. The option can be set at a company or individual level. It can be configured to operate on demand. It depends on the VoIP providers what options are available– some solutions may offer cloud storage for call recordings, saving space on a local network.
Caller ID
Caller ID displays information on callers, such as their name and phone number. The information enables employees to identify the caller before answering the phone. With the added information, individuals can answer or decline the call. They can have the call go directly to voicemail, reducing the number of interruptions in a day.
Voicemail
VoIP voicemail goes beyond the leave a message functionality. The module can support custom greetings with the ability to schedule when specific messages are played. Some solutions can transcribe the message into text.
Conference Bridge
A conference bridge allows multiple individuals to participate in a call using any internet-enabled device. This feature is especially useful for remote teams that need to collaborate even when not in the office.
These are some common features offered by VoIP providers for SMBs. Other options such as video conferencing may also be available, making it essential that companies know their requirements before moving forward on a VoIP solution.
Advantages of VoIP
The primary advantage of VoIP is cost savings. Traditional multi-line phone systems rely on a PBX system that requires special hardware. The hardware is expensive, and the ongoing maintenance and support are often costly. Landline installations also require copper wiring instead of the ethernet cables needed for IP phone systems.
Then, there is the cost of the phone calls. Traditional phone systems base their charges on the calls, with long-distance calls incurring higher fees than local connections.
With voice over internet phones, the cost is based on the data being sent through the internet connection. Distance is not a factor for IP phones since charges are based on data packets crossing the internet.
VoIP reduces the expense of connecting remote workers to a company's phone system. Given the extensive features of IP phone solutions, remote employees can communicate with colleagues and clients as though they were in the office. Many of the built-in features into an IP system are costly added features in a PBX environment.
Other advantages of VoIP business phones include:
Increased accessibility
Easier portability
Better scalability
Advanced features
Clearer voice quality
The best solutions for large or small business VoIP users are the ones that meet their needs.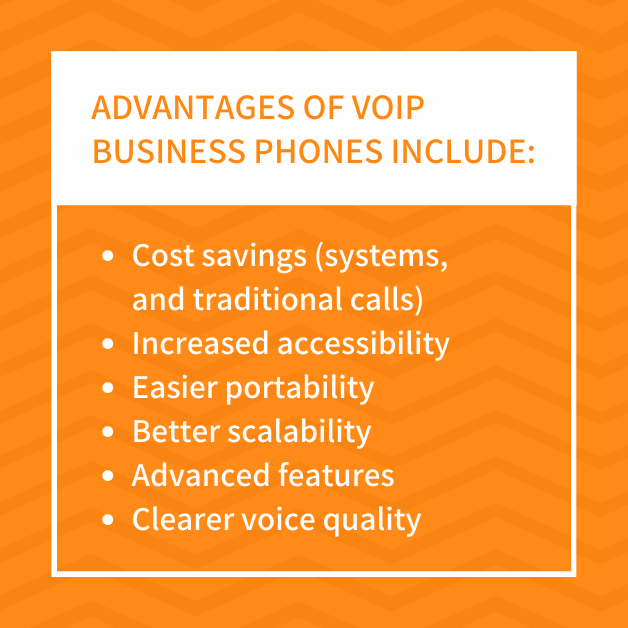 Increased Availability
If the VoIP solution is cloud-based, businesses can make calls from anywhere there is a decent data connection. Employees can also direct their callers to another extension or to voicemail. With more advanced solutions, the phone message can be converted to text and emailed to the employee, who can return a call or drop the caller an email.
As more companies work in a hybrid environment, phone accessibility becomes a priority. Enabling staff to be productive no matter where they are is an essential part of making remote and hybrid environments work. Approximately 35% of VoIP systems are fully hosted and 55% operate in a hybrid environment.
Easier Portability
A VoIP number is a virtual number, meaning it can go where you go. Instead of spending hours with a telephone company trying to get the existing number transferred, a small business can keep its number. Even if the company changes addresses, the phone number can remain the same. There is no added cost for informing customers of a new phone number just because you relocated across town.
Better Scalability
The goal of every business is growth. The best VoIP phone system can scale with a growing company. Adding more access points or enabling an advanced feature can be performed without expensive hardware or more telephone lines.
With some solutions, increased capabilities can be toggled on and off to address peak calling periods. VoIP providers give businesses the flexibility to grow without disruption.
Advanced Features
VoIP providers for service companies make it possible for even a one-person enterprise to appear more professional. Auto-attendants can be used to direct callers to departments of one or to establish conference calls with potential clients. The built-in capabilities for conferencing make it easier for any business to reach its customers and connect its employees. For 66% of small businesses, conference calling is the most important feature of VoIP.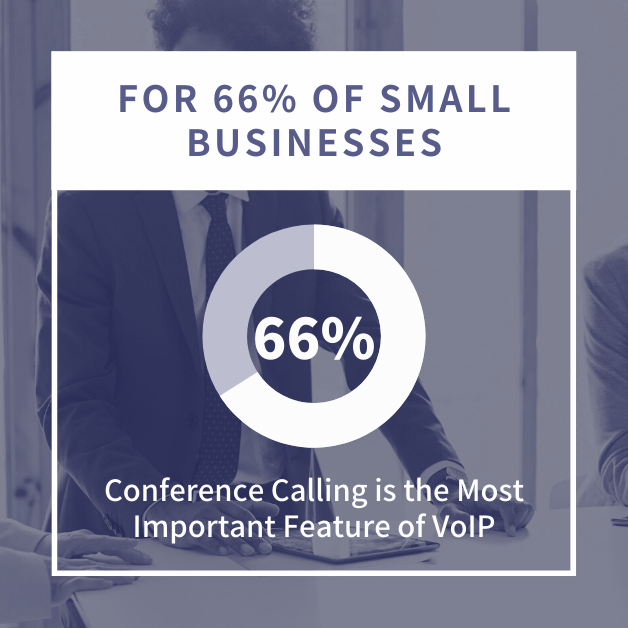 Clearer Voice Quality
Today's VoIP providers for an SMB offer better call quality than in the past. When VoIP was first released, voice quality was a disadvantage. There were latency issues and echoes that made it impossible to conduct business. More time was spent trying to establish a good connection than on the call itself.
With better connectivity and broader bandwidth, call quality is no longer a concern. Many VoIP phone services use audio compression technology to improve sound quality. Using noise-canceling microphones can also reduce the impact of background noise on call quality.
Although an internet phone service has significant advantages, it, like everything else, is not perfect.
Disadvantages
Although technology has made significant advances in call quality, some environments may still experience latency issues. If a reliable internet connection is not available, an IP phone service may not be advisable. Here are three things to consider when looking for the best business phone system.
Internet Connections
VoIP doesn't require as much bandwidth as you might think. However, each device should have an upload speed of 100kbps. If the internet connection does not have sufficient bandwidth or is unreliable in terms of availability, a VoIP solution may not be the best option. Call quality is a direct result of internet strength and reliability.
Latency
IP transmissions use data packets to send messages online. These packets are reassembled at the receiving end to relay the original message. If there is a problem with the transmission, the call quality is degraded.
For example, a poor internet connection, insufficient cabling, or inadequate router capabilities can cause data packets to be delayed.
Delays in transmission can result in errors when the message is reassembled. It's important that buffering is enabled and CAT 5 or 6 cables are used.
Emergency Phone Calls
IP-based phones are not always able to pinpoint a caller's location. Although this doesn't impact most business communications, it does mean that emergency phone calls such as 911 will not be able to determine the location of the call. In those instances, the caller should inform the dispatcher as to the location.
VoIP Service Providers
As with any service provider, VOIP providers need to ensure that they have the expertise and resources needed to meet your company's needs.
For example, most people do not think about the security of their phone systems. However, the increasing number of cyberattacks indicates that criminals are becoming more innovative, making cybersecurity awareness more important than ever.
Social engineering is one way that hackers try to infiltrate a system. To mitigate security threats, a business VoIP provider should leverage technology to protect your network. They should ensure that best practices are followed by all personnel and that their systems are being monitored continuously for suspicious activity to best avoid being hacked.
The best VoIP phone system is the one that is concerned about the security of your system.
Hosted
For many small to mid-sized businesses, the best VoIP phone system is hosted rather than operated in-house. The hosted solution reduces the upfront costs for the company and provides an avenue for organizations unfamiliar with VoIP technology an opportunity to become comfortable with its capabilities. As with any managed service, institutions need to work with a provider that:
Listens to your requirements
Answers your questions
Offers price transparency
Maintains secure operations
In today's business environment, the phone is still a crucial part of doing business. Customers still want the option of contacting a business by phone and employees need the ability to communicate with colleagues and clients anytime and from anywhere.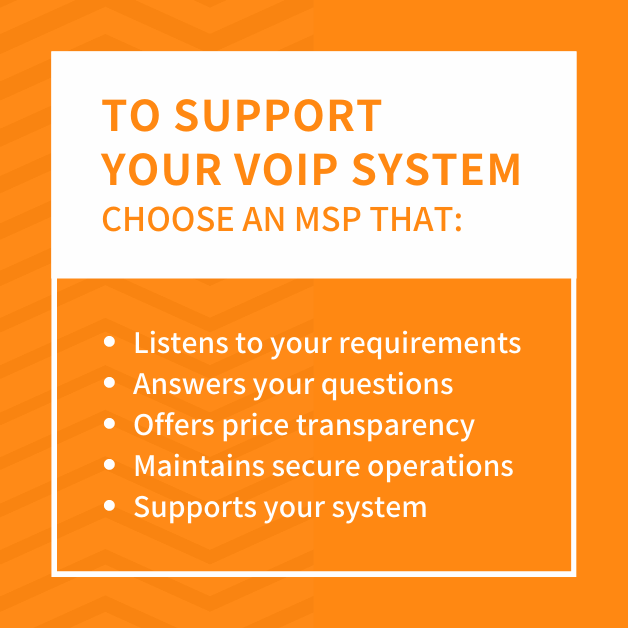 On-Premise
Some businesses want to manage their phone system onsite. In those instances, companies need to work with providers that offer the necessary service and support to keep your system operating. They should provide 24/7 support and service. They should have the capabilities to provide remote as well as on-site support with sufficient inventory to ensure parts availability.
Knowledgeable
The right VoIP companies are those with the knowledge of your local market but also the understanding of VoIP technology. With their expertise, they can guide you through the process of selecting the best VoIP phone system for your company.
They will also be able to assist you as your organization grows to ensure you present the most professional image to your clients.
If you're looking for help in selecting the best VoIP phone system for your business, Machado is here to help. We have extensive experience in streamlining business communications and can help your business find the right solution!