Technology permeates practically every aspect of our professional and private lives.
It can quickly become so embedded that we don't know how we functioned without it. When our smartphones fail, we rush to find a replacement. If the internet goes down, work stops or at least slows.
A lapse in technology availability in our personal lives is inconvenient; in business, it can be catastrophic.
When technology fails or is disrupted, companies scramble to find solutions. If you have in-house IT, you look to them for answers.
However, without internal IT support, organizations are stuck trying to find someone with the expertise to bring their systems back online.
Fortunately, companies that use MSPs don't have to worry about finding IT support in the middle of a crisis.
What is IT Support?
Another term for businesses that offer IT support is managed service providers (MSPs). MSPs deliver technical services through continuous management, maintenance, and support of technology. The services may be performed at a client's location, at a data center, or in the cloud.
A precise IT support definition depends on the service agreement between the MSP and the customer.
Who Uses MSPs?
Every industry uses IT support services. Large companies may use external sources to augment their IT departments. Smaller businesses may outsource all of their IT needs to an MSP. It is the flexibility in their technical solutions that make MSPs so attractive to organizations of all sizes.
A small law firm may use an MSP to manage its infrastructure, deploy cybersecurity defenses, and connect remote workers. A manufacturer may use outsourced IT services for managing its remote devices (IoT) and its hybrid work environment. DoD contractors may look to MSPs for assistance in meeting CMMC compliance.
With a projected compound annual growth of 8.44% from 2021 through 2026, MSPs will be providing IT support to more and more organizations.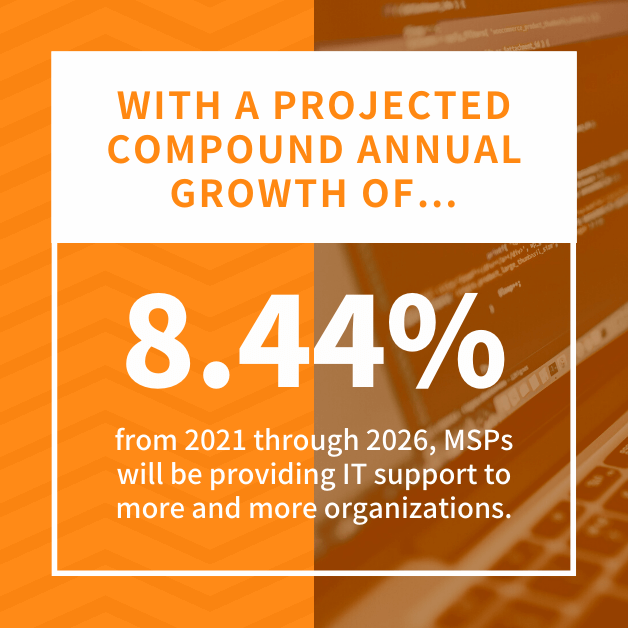 Why IT Services?
Every company has become a technology company. Without technology, organizations could not conduct business.
When the office computer was used for word processing and accounting, IT support from the manufacturer might have been enough. If the hardware failed, you called the manufacturer. If there was a software problem, you called the developers.
Today, technology is so tightly integrated that businesses need a comprehensive view of their infrastructure. For example, a software update is applied to the accounting software, but now the automatic payment module is not working. The bank says it hasn't changed anything. The software provider tests the update and says it is working as designed. Everyone is pointing to the other as the problem. A business is caught in the middle trying to get the payment module working.
MSPs can oversee system operations. They can work with outside vendors to resolve problems.
In the case of the software update, an MSP could work with the bank and the software provider to troubleshoot the problem until a solution is found. Businesses do not have to expend in-house resources to try to resolve the problem.
The definition of IT services has expanded. Not only can MSPs work with outside vendors, but they can also help with disaster recovery, cybersecurity, and much more.
What IT Services do MSPs Provide?
Managed IT services providers offer a variety of technology solutions to fit your company's budget. Whether it is providing additional support to an understaffed IT department or acting as a company's IT department, MSPs have the skills and expertise to ensure a business's technology operates reliably.
Disaster Recovery
Every business needs a business continuity plan. Whether it's a hurricane or a localized water main break, a disaster can disrupt business operations. Without a plan, companies struggle to remain open.
MSPs can work with businesses to develop and maintain disaster recovery plans. These plans can include maintaining system backups or providing disaster recovery sites.
Should a disaster strike, organizations working with an IT company can quickly move to a recovery location that minimizes any disruption in service. With minimal downtime, professional firms can continue to provide their customers with the services they need.
Remote and Hybrid Workplaces
Creating a safe and secure remote or hybrid work environment requires more than an internet connection and a laptop. MSPs can help firms manage their expanded network. They can configure firewalls, set up VPN access, and monitor traffic to ensure every employee has what they need to work productively.
IT solutions can include added security to strengthen the defenses of a distributed network. When organizations cannot control the access point's security, they need a solution that can authenticate the user.
MSPs have the expertise to help businesses design infrastructures that remain secure whether on-premise, in the cloud, or at home.
Compliance
Most industries have some form of compliance requirements. DoD contractors have CMMC compliance, and healthcare providers have HIPAA, for example.
Any firm accepting online or digital payment methods has network and federal standards, many of which require performance audits. MSPs can help organizations stay in compliance through in-house audits, testing, and process development.
Many standards, such as CMMC, require complex security measures. MSPs can also assist in strengthening cybersecurity defenses to meet these increasingly strict compliance requirements.
The recent implementation of the DoD's CMMC framework creates 43 capabilities divided over 17 cybersecurity domains. Each of these areas has additional sub areas that can result in 100s of checkpoints for compliance. Working with a knowledgeable MSP can help ensure that institutions meet compliance deadlines to continue doing business with the DoD.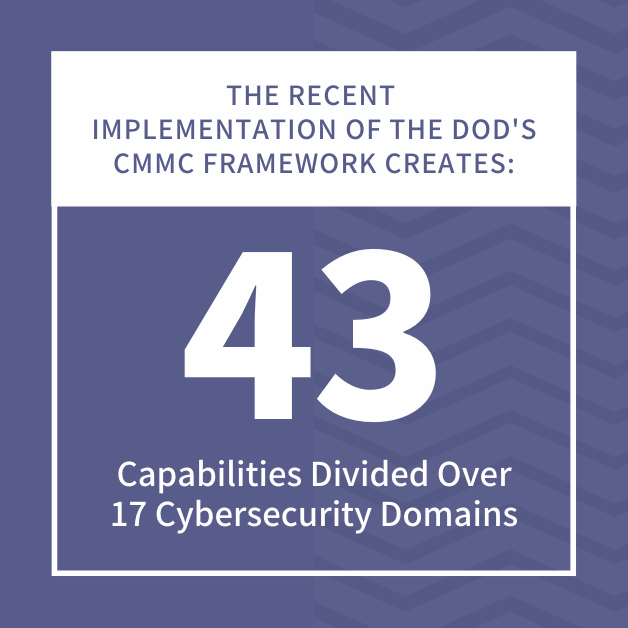 Technical Support
Providing IT services includes tech support. When employees have questions, or a device stops working, MSPs have the expertise to answer the question and fix the device. Sometimes the issues are as simple as resetting a device; other scenarios may involve more intensive first-line support. Whatever assistance is needed, MSPs have the resources to meet a customer's needs.
Most MSPs provide support 24/7 making it possible for employees to continue operations beyond normal business hours. For remote workers, the availability of technical support makes their work hours more productive and less frustrating.
Cybersecurity
MSPs have the resources to help defend against the growing number of cyberattacks. It is projected that a cyberattack occurs every 11 seconds. Without cybersecurity expertise, it's easy to overlook a vulnerability that gives a hacker a way into a system.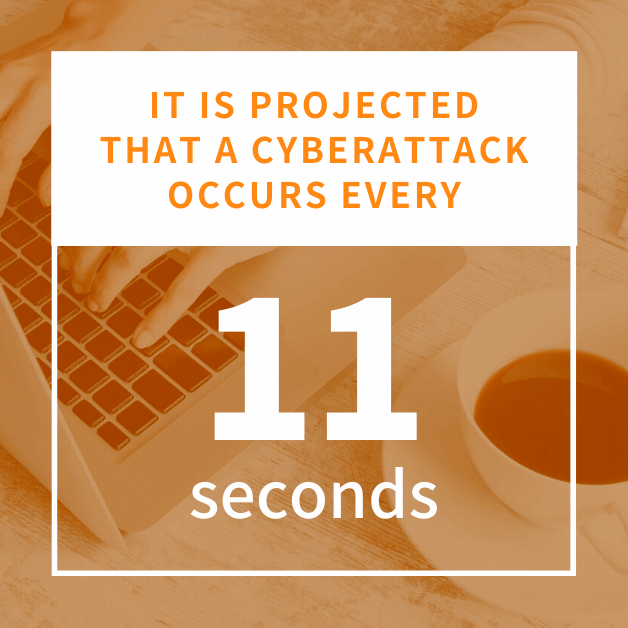 MSPs can also provide employee training to help raise cybersecurity awareness. After all, 90% of breaches are the result of human error.
Cybercrime is becoming more sophisticated, as evidenced by recent attacks such as Colonial Pipeline and JBS Foods. With hackers becoming more advanced in their techniques, it takes cybersecurity specialists to combat their attacks. Relying on MSPs can give companies access to such expertise.
Vendor Management
Managing vendors is more than working with them when problems arise. It includes ensuring the right number of software licenses are in place and that updates are being applied promptly.
Vendors include communications providers that must be contacted when the internet is down, or communication lines are not operating as they should. Working with hardware suppliers can be a part of the IT services a company provides.
Business Communications Systems
With more companies moving to VoIP technology, maintaining a phone system has moved into the digital world. Having the expertise of an MSP enables businesses to select the best communications system for their needs.
It also means being able to support and maintain a system that meets a company's needs. Helping businesses manage their cellular and Wi-Fi connectivity is also part of the services an MSP may offer.
Cloud Solutions
Professional firms, among other businesses, are turning to the cloud to help with remote workers and to reduce costs.
However, moving to the cloud isn't a matter of changing an IP address. There's more involved if businesses are going to realize the benefits of cloud computing.
Companies need to consider changes in security as they move to the cloud and how the cloud infrastructure will interface with existing on-premise servers.
MSPs can provide assistance in planning, moving, and maintaining a cloud deployment.
Systems Engineering
Strong infrastructures are the foundation for reliable and secure computer networks. MSPs have system engineers who can help design and deploy the best network configurations. Some businesses need performance, while others need reliability. For professional firms, the trade-off may be security and costs. Whatever the need, MSPs can offer options to meet an institution's needs.
When Do You Need IT Support?
Organizations need access to IT support every day. No one can predict when a disaster may strike, a server fails, or a cyberattack is launched.
Just one of those events could result in downtime. It may be for an hour, but it could grow into days.
Every minute of downtime costs money. The exact cost varies significantly from industry to industry, with hourly downtime rates ranging from $10,000 to $50,000 for small to mid-sized businesses. The two primary causes of unplanned downtime are software failure and cybersecurity.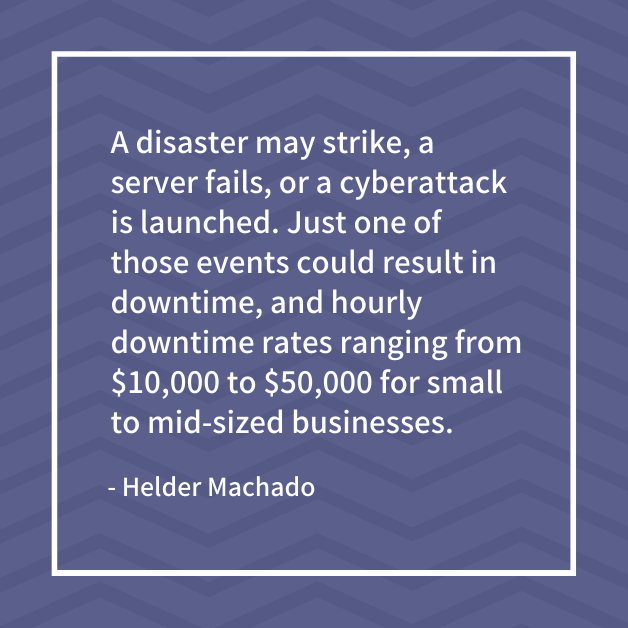 System Failures
As mentioned previously, software updates can sometimes have adverse effects on a company's infrastructure, but so can misconfigurations.
Setting up hybrid environments, for example, requires careful controls of connections between on-premise and remote workers as well as cloud-based applications. A simple misconfiguration or a change in connectivity protocols can create havoc on network operations.
MSPs can provide backup resources should a configuration error cause unplanned downtime. Not only can they keep a business operational, but they can also troubleshoot the system to determine the error for quick correction.
Hardware failures can also result in downtime. IT support companies can monitor network devices and assess device performance. Based on the collected information, they can predict when a device may need to be replaced, or connectivity revisited.
With the continuous management of the network, IT solution providers can help organizations avoid the high cost of unplanned downtime.
Cyberattacks
Protecting against cyberattacks involves more than thwarting an attack in progress. It also means developing policies and procedures to help secure the entire attack surface.
For example, MSPs have the expertise to help organizations develop multi-factor authentication and least-privilege models to ensure that only authorized personnel are given access.
Another area that MSPs can help with cybersecurity is developing response plans if an attack does occur. According to IBM's latest data breach report, organizations with a response plan were able to reduce the overall costs of a security breach.
Being familiar with the reporting requirements surrounding a breach can save companies from unnecessary fines and penalties.
Technology Investments
Technology changes rapidly. Knowing what is on the horizon can help businesses invest in the best technology for the future.
MSPs have technical professionals who stay current on the trends and advances in technology. With this information, they can guide their clients when it comes to investing in technology.
In today's digital-first business environment, technology investments are also strategic investments. Partnering with an MSP can help organizations make informed decisions on how to spend their technology budgets. Because MSPs have a comprehensive understanding of technology, they can assist their customers beyond the narrow range of a specialized consulting firm.
If your business is struggling with your current IT support system, or maybe in need of a new MSP altogether, Machado Consulting is here to help. Our experience and expertise mean we're committed to finding an IT support solution that will bring your business success.