WORCESTER, MA, June 23, 2023 – Machado, respected experts in delivering state-of-the-art proactive IT and cybersecurity solutions, is excited to announce that it has been recognized for its unwavering commitment to excellence and innovation by being ranked in the distinguished 2023 Channel Futures MSP 501 list. The company has secured the 221st spot, making an impressive leap from its previous rank of 277th last year.
Helder Machado, CEO of Machado, responded to this acknowledgment with immense pride, stating, "Being featured in the Channel Futures MSP 501 is a testament to our team's dedication, agility, and relentless pursuit of excellence. We are honored to be part of this prestigious list, and this recognition fuels our commitment to continuously innovate and serve our clients with cutting-edge IT and cybersecurity solutions."
The Channel Futures MSP 501 is renowned for being the technology industry's most coveted ranking of managed service providers across the globe. Companies that grace this list are celebrated for their innovation, robust growth-oriented business models, technical acumen, and strategic partnerships with industry-leading vendors and tech suppliers.
Machado's meteoric rise to the 221st position is reflective of the company's indomitable spirit and its tenacious dedication to addressing the ever-evolving demands of the market. This achievement is also a testament to Machado's ongoing endeavors to serve its clients with unparalleled IT and cybersecurity services.
"We look forward to fostering our relationship with Channel Futures and the MSP 501 community," said Helder Machado. "This is not just a win for us but also for our valued clients who trust us with their critical IT and cybersecurity needs."
Machado and the team are excitedly preparing for the MSP 501 Awards Gala, which will take place during the Channel Futures Leadership Summit in Miami, Florida, from October 30 to November 1, 2023. They are thrilled to engage with industry leaders, celebrate this momentous achievement, and continue to build on success.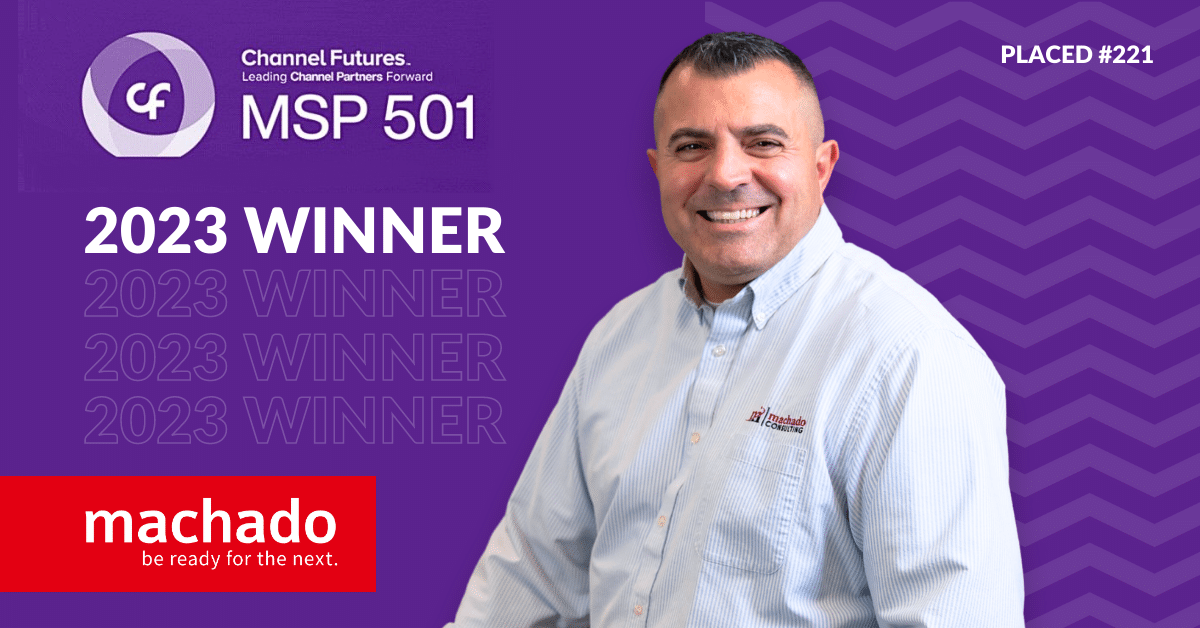 About Machado
Established in 2001 in Worcester, MA, Machado is a Service-Disabled Veteran-Owned Small Business (SDVOSB) founded on the idea that high-quality IT solutions and support should be more than a proactive tool that protects your business. IT should be an agile team that is an extension of your business and helps you anticipate events. As a Top 10 Managed Service Provider (MSP) in Massachusetts, Machado helps you unlock the full potential of your business with proactive, managed IT and cybersecurity solutions from a team that cares and prepares you to be ready for the next cyberattack…opportunity…audit…compliance event… or transformation.
About Channel Futures
Channel Futures is a media and events destination for the information and communication technologies (ICT) channel community. We provide information, perspective and connection for the entire channel ecosystem, including solution providers (SPs), managed service providers (MSPs), managed security service providers (MSSPs), cloud service providers (CSPs), value-added resellers (VARs) and distributors, technology solutions brokerages, subagents and agents, as well as leading technology vendor partners and communication providers.
Our properties include many awards programs such as the Channel Futures MSP 501, a list of the most influential and fastest-growing providers of managed services in the technology industry; Channel Partners events, which delivers unparalleled in-person events including Channel Partners Conference & Expo, Channel Futures Leadership Summit, Women's Leadership Summit, the MSP Summit and Channel Partners Europe; and a DEI Community Group, our initiative to educate, support and promote diversity, equity and inclusion (DE&I) in the ICT channel industry. Channel Futures is where the world meets the channel; we are leading Channel Partners forward. More information is available at channelfutures.com.
Media Contacts
Helder Machado
CEO/CISO, Machado Consulting, Inc.
helder@gomachado.com
Jeff O'Heir
Channel Futures Senior News Editor, MSP 501 Manager
jeff.oheir@informa.com