WORCESTER, MA, September 15, 2022 – Machado Consulting, Inc. of Worcester has been named as one of the world's premier managed service providers (MSP) in the prestigious 2022 Channel Futures MSP 501 rankings. Machado ranks at #277 in 2022 compared to 390 in 2021. This ranking also places Machado as a top 10 MSP in Massachusetts.
Machad , founded in 2001 by Helder Machado, was recently selected as one of the technology industry's top-performing providers of managed services by the editors of Channel Futures. For the past 16 years, managed service providers (MSPs) from around the globe have submitted applications to be included in this prestigious and definitive listing. The Channel Futures MSP 501 survey examines organizational performance based on annual sales, recurring revenue, profit margins, revenue mix, growth opportunities, innovation, technology solutions supported, and company and customer demographics. 
MSPs that qualify for the list must pass a rigorous review conducted by the research team and editors of Channel Futures. It ranks applicants using a unique methodology that weighs financial performance according to long-term health and viability, commitment to recurring revenue and operational efficiency.  "I'm filled with gratitude that Machado is being recognized again in 2022. I'm especially proud to have moved up 113 spaces in the prestigious MSP 501 ranking" said Helder Machado, CEO/CISO of Machado Consulting. "Moving up to #277 globally and being ranked a top 10 MSP in Massachusetts this year says a lot about the dedication of our entire team at Machado. Receiving this recognition is a wonderful tribute not just to us, but to the Greater Worcester business community, as well."  Winners were  honored at a special ceremony at the Channel Futures MSP Summit + Channel Partners Leadership Summit, Sept. 13-16, in Orlando, Florida.
Since its inception, the MSP 501 has evolved from a competitive ranking into a vibrant group of innovators focused on high levels of customer satisfaction at small, medium and large organizations in public and private sectors. Today, many of their services and technology offerings focus on growing customer needs in the areas of cloud, security, collaboration and support of hybrid workforces.
"The 2022 Channel Futures MSP 501 winners are the highest-performing and most innovative IT providers in the industry today," said Allison Francis, senior news editor for Channel Futures. "The 501 has truly evolved with the MSP market, as showcased by this year's crop of winners. This is also the fifth consecutive year of application pool growth, making this year's list one of the best on record."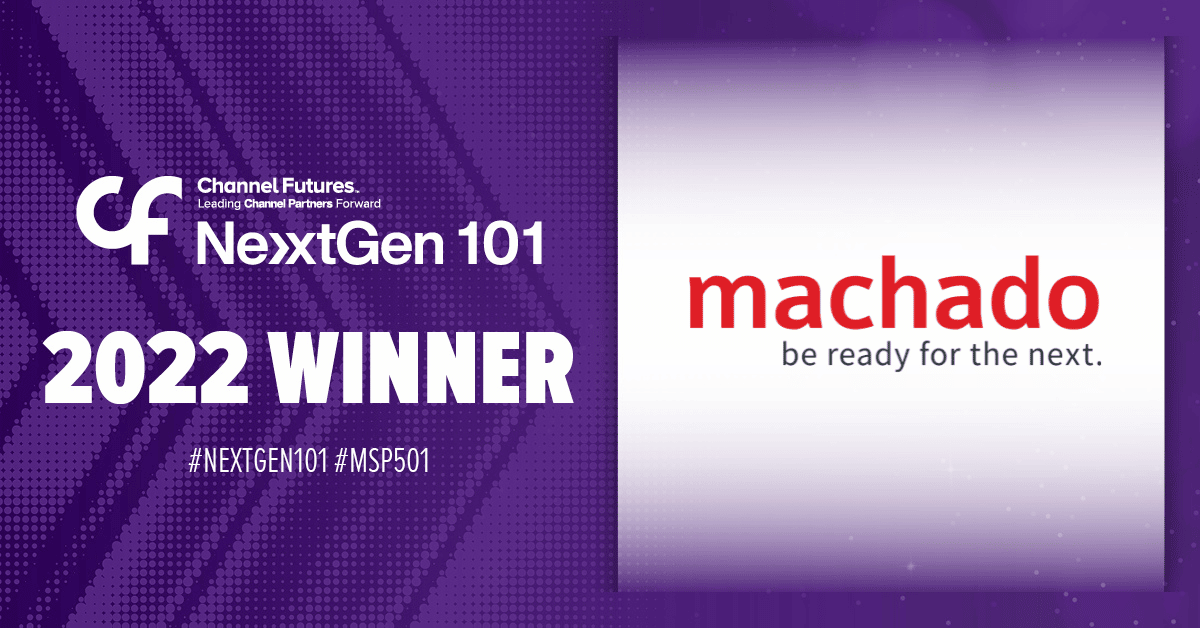 Background
The 2022 MSP 501 list is based on confidential data collected and analyzed by the Channel Futures editorial and research teams. Data was collected online from Feb. 1-April 30, 2022. The MSP 501 list recognizes top managed service providers based on metrics including recurring revenue, profit margin and other factors.
About Machado
Established in 2001 in Worcester, MA, Machado is a Service-Disabled Veteran-Owned Small Business (SDVOSB) founded on the idea that high-quality IT solutions and support should be more than a proactive tool that protects your business. IT should be an agile team that is an extension of your business and helps you anticipate events. As a Top 10 Managed Service Provider (MSP) in Massachusetts, Machado helps you unlock the full potential of your business with proactive, managed IT solutions from a team that cares and prepares you to be ready for the next cyberattack…opportunity…audit…compliance event… transformation. 
About Channel Futures
Channel Futures is a media and events platform serving companies in the information and communication technologies (ICT) channel industry with insights, industry analysis, peer engagement, business information and in-person events. We provide information, perspective, and connection for the entire channel ecosystem. This community includes technology and communications consultants, integrators, sellers, MSPs, agents, vendors and providers.
Media Contacts
Helder Machado
CEO/CISO, Machado Consulting, Inc. helder@machadoconsulting.com
Allison Francis
Senior News Editor, Channel Futures and MSP 501  allison.francis@informa.com