Persistent hacking efforts in 2021 prove the U.S. Department of Defense (DoD) was right to insist military contractors and those in the supply chain adopt the cybersecurity maturity model certification (CMMC).
Troubled by advanced persistent threats and hackers working on behalf of enemy nations, the DoD recognized that applying different cybersecurity protocols across the defense industrial base cracked the door for infiltration. Compounding that problem, models used before CMMC compliance was mandated allowed contractors to self-accredit. As a result, the DoD too often discovered pervasive cybersecurity failures and leveling fines — after the fact — did little to cure the fact hackers siphoned off controlled unclassified information (CUI).
In 2021 alone, military contractors, companies in the supply chain, the DoD, and other federal agencies have been stung by a series of sophisticated hacking schemes. The now infamous, SolarWinds breach saw determined cybercriminals deposit malicious files in software widely used by the DoD and others. The more recent ransomware attack on the privately-owned Colonial Pipeline highlights the fact that critical national security infrastructure remains at risk.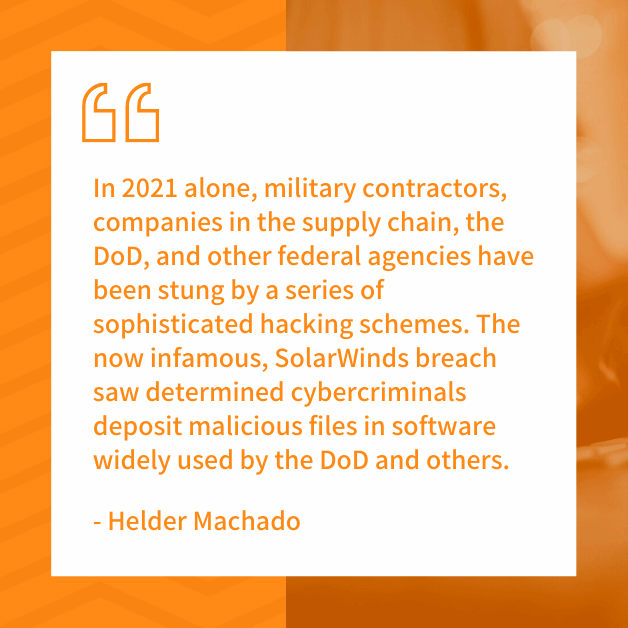 Those rank among the headline-grabbing examples of why the DoD insists on cybersecurity maturity model compliance. But, perhaps, the more pervasive problem stems from hackers targeting companies that contribute while storing or transmitting CUI. Clever hackers have been able to pilfer off CUI and piece information together. America's enemies use CUI like pieces of a jigsaw puzzle to create a clear picture of national security directions.
That's why cybersecurity in manufacturing and other industries that work in the defense industrial base's orbit need to undergo a CMMC audit and earn certification.
What is CMMC and Who Needs It?
Explaining how the federal government arrived at the cybersecurity maturity model involves a long evolution of policies and protocols. As someone involved in CMMC consulting with professionals outside the technical aspects of cybersecurity, I believe it's best to keep the explanation simple.
The CMMC unifies wide-reaching approaches to protecting national security data, including CUI. This umbrella policy applies to upwards of 300,000 outfits that are directly or indirectly linked to the DoD. The DoD released the model in January 2020 and steadily rolled out its compliance mandate. Rather than allow military contractors and supply chain businesses to operate on the honor system, outfits connected to CUI are now required to meet the singular standard and pass a CMMC audit.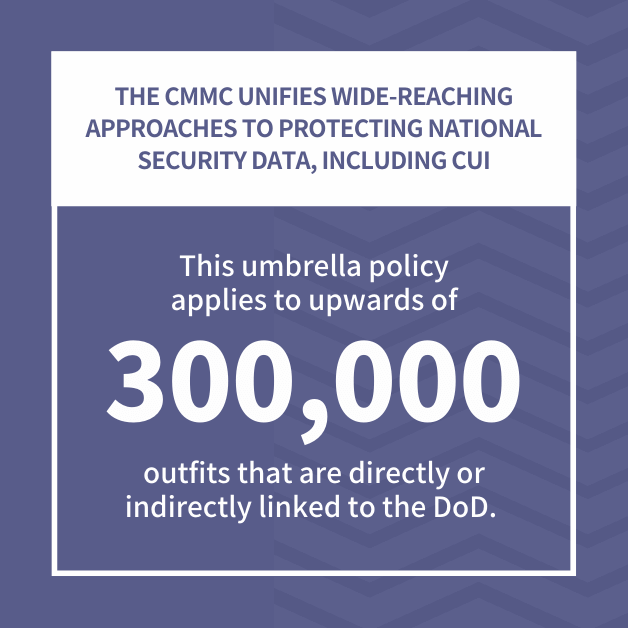 It's no longer a matter of whether or not the CMMC applies to your organization. The question is, which of the following five CMMC framework models you are tasked with applying and passing an audit.
Level 1: Considered the lowest threshold, companies linked to relatively harmless CUI must adhere to "basic cyber hygiene" practices outlined by the CMMC.
Level 2: A CMMC audit must demonstrate "intermediate cyber hygiene" has been achieved. This level typically involves proving an ability to protect CUI.
Level 3: Meeting this standard requires an organization to have a cybersecurity management plan and practice "good cyber hygiene."
Level 4: An organization must prove it can effectively detect and deter advanced persistent threats and protect sometimes sensitive CUI. This generally involves defending multi-pronged attacks from sophisticated hackers working for America's adversaries.
Level 5: Often reserved for corporations tasked with handling high-security military defense projects and information, a CMMC audit must prove an ability to identify, detect, and repel sophisticated hackers.
To say figuring out which CMMC certification level applies to your operation can be confusing would be something of an understatement.
That's why business professionals usually enlist a CMMC consulting firm to review and analyze the CUI in play and match the company with the correct cyber hygiene level.
We take proactive measures to ensure businesses pass a CMMC audit and continue to enjoy access to lucrative government contracts and supply chain work.
What is a CMMC Audit, and Why's it Important?
Before diving into what a CMMC audit involves, it's crucial to understand why it's important to an organization. The implications of non-compliance or failing a CMMC audit will result in your organization getting sidelined. Companies that do not achieve CMMC compliance cannot bid on profit-driving DoD contractors or participate in supply chain activities. This unenviable situation allows competitors in your sector to gain a strategic advantage while you sit out. Even requests for proposals (RFPs) have begun to require proof of a successful CMMC audit with filings. This brings us to precisely what a CMMC audit entails.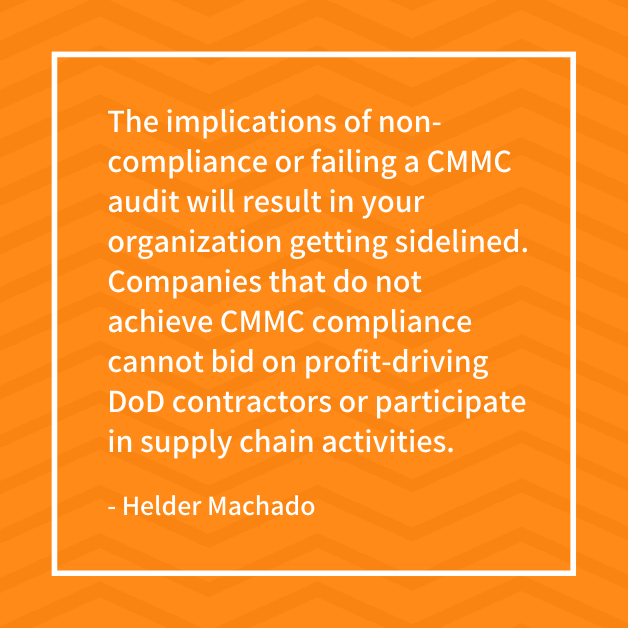 The CMMC audit tasks companies with meeting the standards and having an independent third-party assessor test the organization's cyber hygiene. A third-party CMMC Accreditation Body (CMMC AB) is usually composed of cybersecurity experts not connected with the DoD. Industry insiders enjoy using the pseudo-Star Wars nickname C3PAO, which stands for CMMC Third Party Assessment Organization. Fun stuff.
How To Prepare for a CMMC Audit
A wide range of small, mid-sized, and large corporations enlist the support of a CMMC consulting firm to ensure they pass muster the first time.
Those who employ a DIY strategy typically do not achieve CMMC compliance because of the highly technical nature of the model.
One of the more challenging aspects of not working with an expert involves the importance of cyber security awareness training for employees. Numerous CMMC protocols require cyber security awareness training for employees. This policy is not necessarily restricted to upper-level CMMC compliance. All of the data regarding ransomware and network breaches points to human error that can only be curbed through robust and ongoing cyber security training for employees. That aside, these are ways to help prepare for CMMC audits.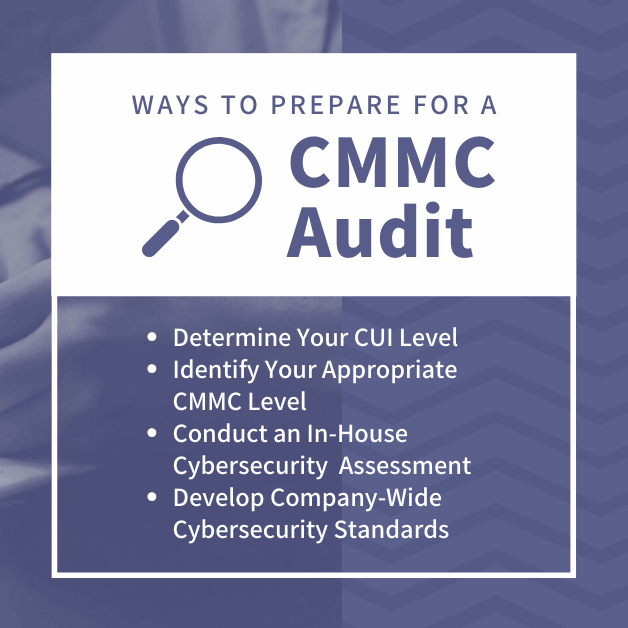 Determine Your CUI Level
Figuring out which cyber hygiene level your operation will need to meet starts with CUI. Companies that deal directly with the DoD and other branches of the federal government are increasingly likely to store and transmit CUI of a sensitive nature. That often positions them in the upper echelons of the cybersecurity maturity model.
Following that same logic, outfits that conduct seemingly non-essential activities such as delivering commonly used materials may fall into Levels 1 and 2.
The only way to understand where your operation stands is to have a full review of CUI conducted.
Identify Appropriate CMMC Level
Matching your CUI with the proper CMMC compliance level involves a robust understanding of cybersecurity and the technical details laid out in sub-sections of the DoD mandate. The federal government does publish wide-reaching information for DIY business owners to access. In terms of the lowest CMMC compliance levels, some professionals with a background in cybersecurity can muddle through. I strongly advise decision-makers to work with an experienced CMMC consulting firm to ensure you meet the appropriate compliance level. The alternative could mean getting sidelined and losing profitable DoD work.
Conduct An In-House Cybersecurity Assessment
There are a wide range of cybersecurity testing methods available to private-sector organizations. Determining your cybersecurity agility may require relatively simple processes such as network scanning or reviewing policies regarding employee password protections. More determined assessments can involve things such as ethical hacking and penetration testing. These cyber health assessments highlight how the company's cybersecurity defenses identify, resist, and repel threat actors when under fire. They rank among the most reliable predictors in terms of achieving CMMC compliance.
Develop Company-Wide Cybersecurity Standards
One of the things that distinguish robust cybersecurity from garden variety firewalls and anti-virus software is thought leadership. Business leaders who take the time to enlist CMMC consulting professionals to diligently craft forward-thinking cybersecurity policies significantly enhance their defenses. Upper-level cybersecurity policies often work across departments and include all employees to form a united front against potential incursions. Having such a plan helps pass a CMMC audit and reduces the risk of a breach.
Provide Cyber Security Training for Employees
Cyber security awareness training for employees ranks among the best strategies to protect a business from hackers, bar none. According to year-over-year data, upwards of 95 percent of all cybersecurity breaches were the result of human error.
Otherwise loyal employees too often fall prey to clever hacking schemes such as persuasive phishing emails or links on look-alike websites. The result is malicious applications inflecting business networks.
Whether your company requires this or not to pass a CMMC audit, the importance of cyber security awareness training for employees cannot be understated. Workers are the first line of defense against cybercriminals. Without awareness and training, your operation is the low-hanging fruit hackers target.
What is the Current Timeline for CMMC Compliance?
Without causing a sense of panic, the DoD has already begun insisting that some military contractors and organizations in the supply chain complete a CMMC audit. Certifications for RFPs and other processes will be rolled out from 2021 through 2025.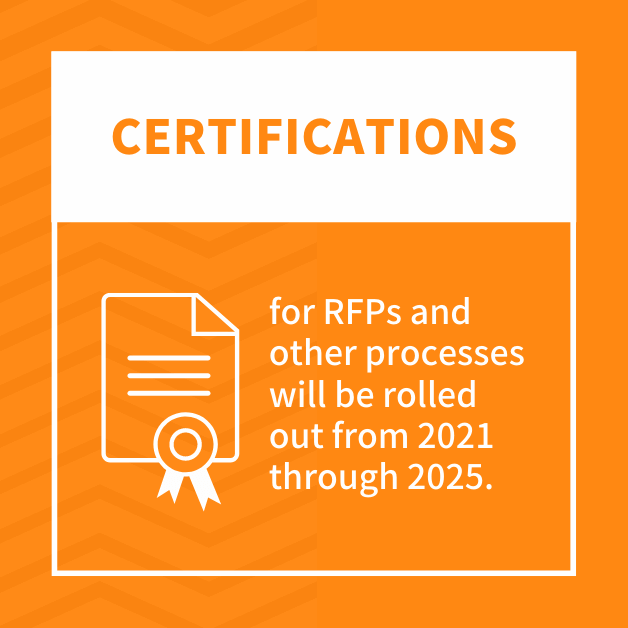 In other words, companies that have not yet conducted a thorough review of their cyber hygiene and secured their systems are quickly falling behind. And don't bet against human nature that points to people waiting until the last minute to get a CMMC audit. Business decision-makers would be well served to expect a backlog in terms of CP3AOs conducting audits.
If you anticipate the DoD requiring a passing CMMC audit to continue working in the defense industrial supply chain, assessing your network and cybersecurity defenses is mission-critical. At Machado Consulting, we take proactive measures to ensure our valued customers possess the cybersecurity defenses to maintain lucrative government contracts and deter hackers.