If you're using Windows Server 2012 or 2012 R2, it's important to take proactive measures now because they are about to time out. 
On October 10, 2023, they cross the end-of-life (EOL) threshold, leaving users in the lurch. Those still relying on the Windows Server 2012 versions need to be ready as security updates, glitch fixes, and technical support come to a close.
Whether you're addressing the Windows Server 2012 EOL, or any other hardware or software meeting the same fate in your IT stack, here are 7 things you need to know about EOL announcements, so you can adequately plan for how they will impact your environment.
1. What Does End of Life (EOL) Mean for Hardware and Software Products?
The term "End of Life," or EOL, refers to the final stages of a product's lifecycle. For manufacturers, it's the period when vendors reduce and discontinue the production of a particular product. The same holds true for software EOL situations. 
However, the coming Windows server 2012 end-of-life will present challenges consistent with other popular applications that timed out.
One of the primary concerns regarding software EOL involves updates. An automobile manufacturer may produce new parts for upwards of a decade for a model after it stops rolling off assembly lines. 
Software companies, by contrast, stop generating updates that correct flaws and protect the application from hackers. Once Windows Server 2012 reaches a tipping point, users will no longer be able to patch it. Despite the inherent risk, these popular legacy software packages are still in play.
Windows 7 Operating System:

This OS was released in October 2009 and reached its EOL in January 2020. Although it lasted more than 10 years, people and businesses kept using it.

Adobe Flash:

This multimedia platform was used to create interactive digital content. Although it was discontinued in 2020, it remains widely popular for playing yesteryear Flash-based games and videos.

Windows Server 2008:

Released in February 2008, this software package stopped receiving support and updates in January 2020.

Microsoft Office 2010:

After 10 years of popular use, its EOL was October 2020.
As you can see, many of the popular software options run for about a decade or longer. Although some people view the turnover in software as purely a way for companies to generate profits, there are credible reasons why software products include an EOL.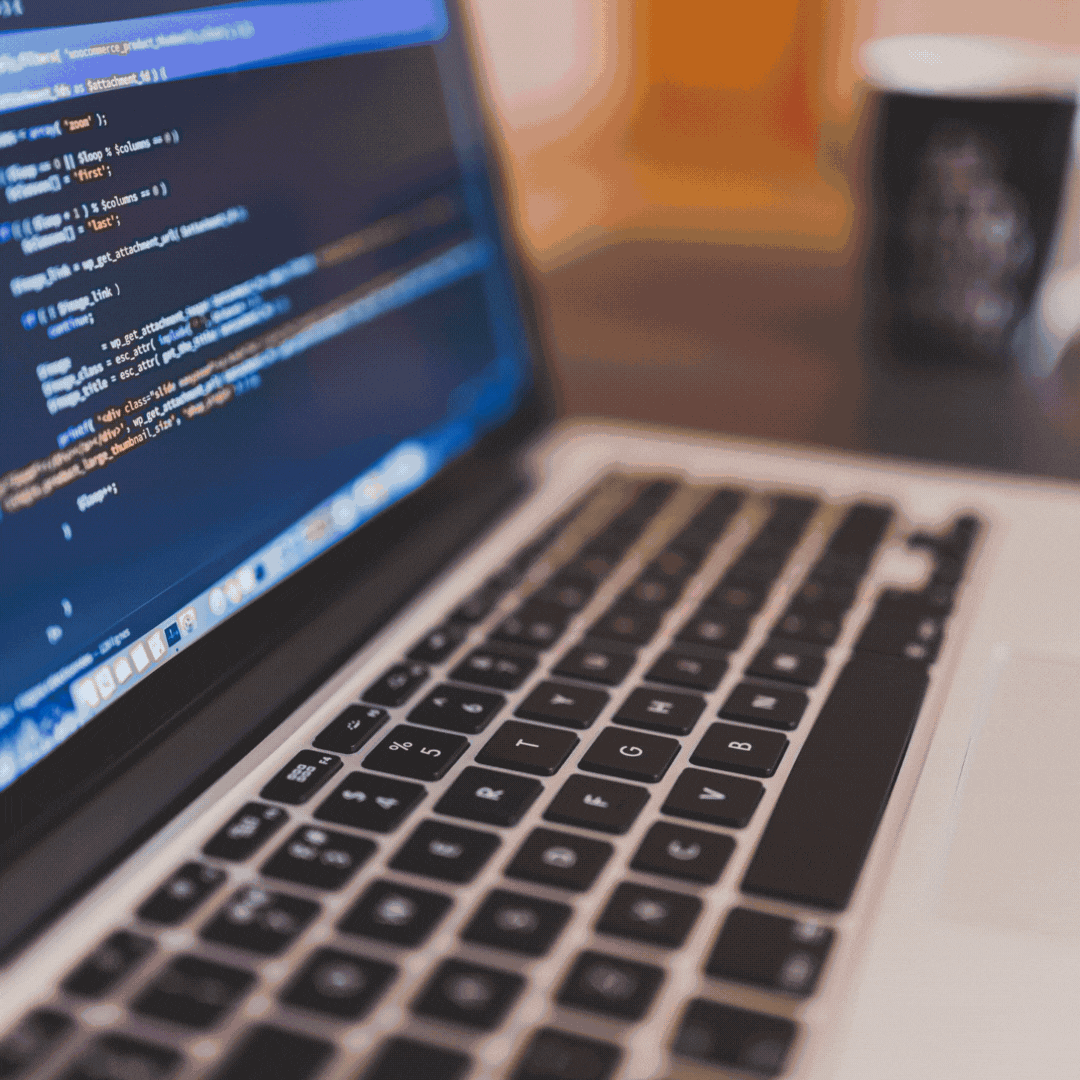 2. Why Do Products Have an EOL?
While there are a variety of reasons why technology-based companies employ end-of-life strategies, few could argue against profitability being a primary factor. There are upwards of seven Nintendo home game console incarnations, and at least four Xbox generations. These tech-based systems usually require updated games and accessories. 
For gaming companies, hardware and software EOL are lucrative propositions. These are other reasons solutions such as Windows Server 2012 are closed out.
Tech Factors:

Evolving technologies tend to run ahead of applications. When the software is no longer compatible, a new version or product is needed.

Regulatory Factors:

When the limits of software applications make it difficult to meet regulatory compliance, organizations seek a product that allows them to follow digital privacy rules.
It's also important to note that software vulnerabilities can open the door to data breaches and litigation. Companies are tasked with keeping personal and valuable information secure. When a type of software can no longer accomplish that feat, the user and manufacturer could be held liable.  
3. Ways to Address Your Microsoft Windows 2012 Server Reaching EOL in October
Decision-makers are likely to ponder whether they can manage the Windows Server 2012 end-of-life without incurring any additional expense. It may be possible to DIY one of the most integral aspects of your organization's technology. But, as you might expect, it will be neither cheap nor prudent.
Microsoft is expected to provide what it calls "extended support" beyond the EOL deadline in October. At first blush, this sounds like a quick fix that allows business leaders to kick the can down the road. As you might anticipate, Microsoft plans to offer this service at a premium.
Extended support costs for Windows Server 2012 could run as high as 75 percent of the licensing fee for the first year. After that, it ticks up to 100 percent in year two, and 125 percent in year three. And don't bother risking cybersecurity vulnerabilities in the first year in an effort to save money. Microsoft is expected to require you to pay for the first year's extended support even though you didn't use it. If those numbers hold, you would have paid for Windows Server 2012 three times to temporarily avoid upgrading.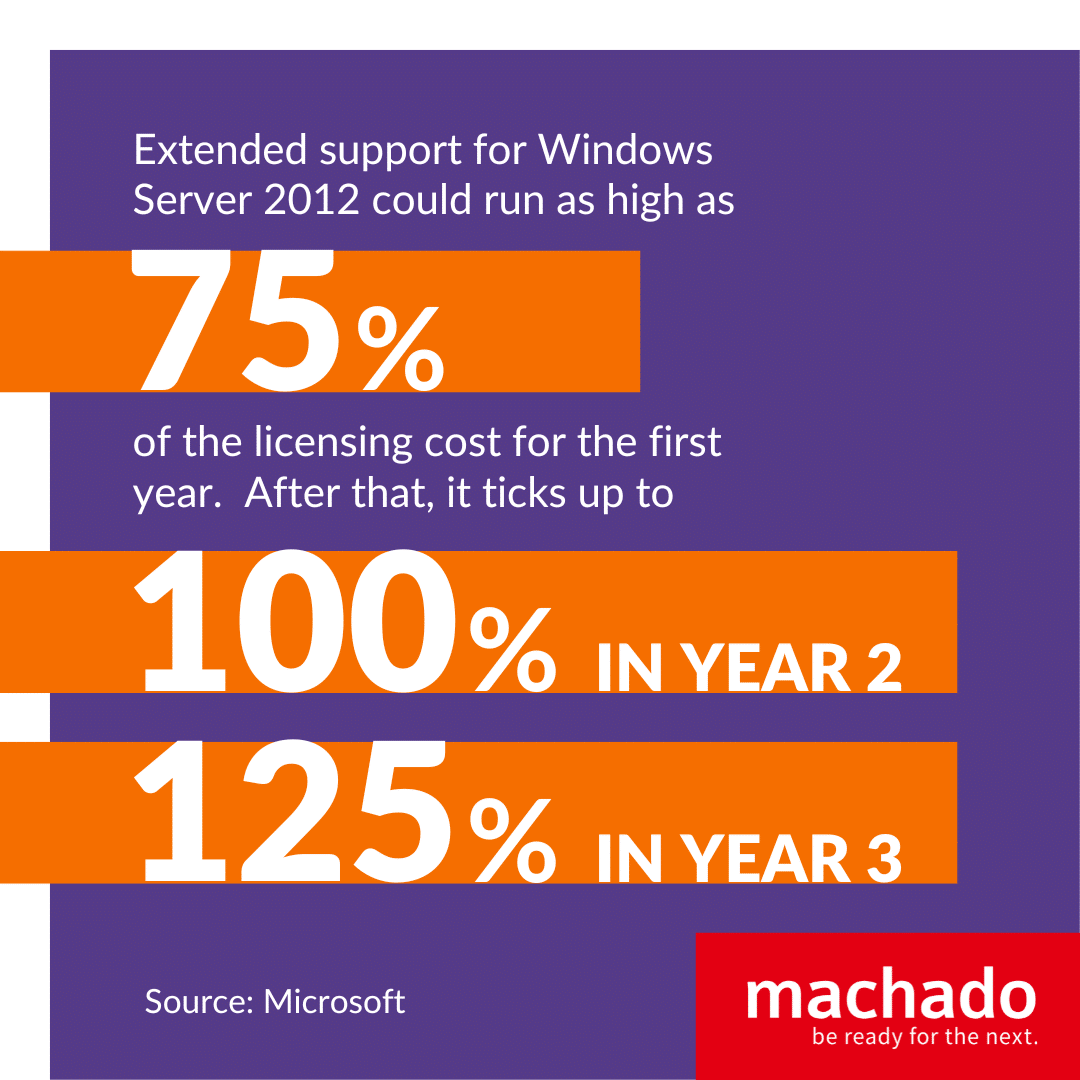 4. Can I Upgrade My Windows Server 2012?
It's possible for a small- or medium-sized business to manage an in-house upgrade from Windows Server 2012 to a 2019 or 2020 version. The process can prove complicated, and it's generally a good idea to have a reliable Microsoft-certified expert handle your upgrade. But if you feel comfortable risking a setback, these are steps you'll need to take.
Determine your Windows Server upgrade.

Determine whether your hardware meets or exceeds the new Windows Server requirements.

Make certain you are not in Azure.

Check if the installation media is available and ready.

Make sure a valid product key and activation method are available.

Prepare a location to store your computer files.

Understand the upgrade and migration roles and features in Windows Server.

Understand the Microsoft server applications compatibility.
It's also essential to make sure you have PowerShell 5.1 or a later version. If everything is in place and you believe you possess a working knowledge of the process, Microsoft offers tutorials. What usually happens when non-IT personnel try to take on this task is they abort the mission and take a fallback position. This generally involves sticking with Windows Server 2012 beyond the EOL date on October 10, 2023.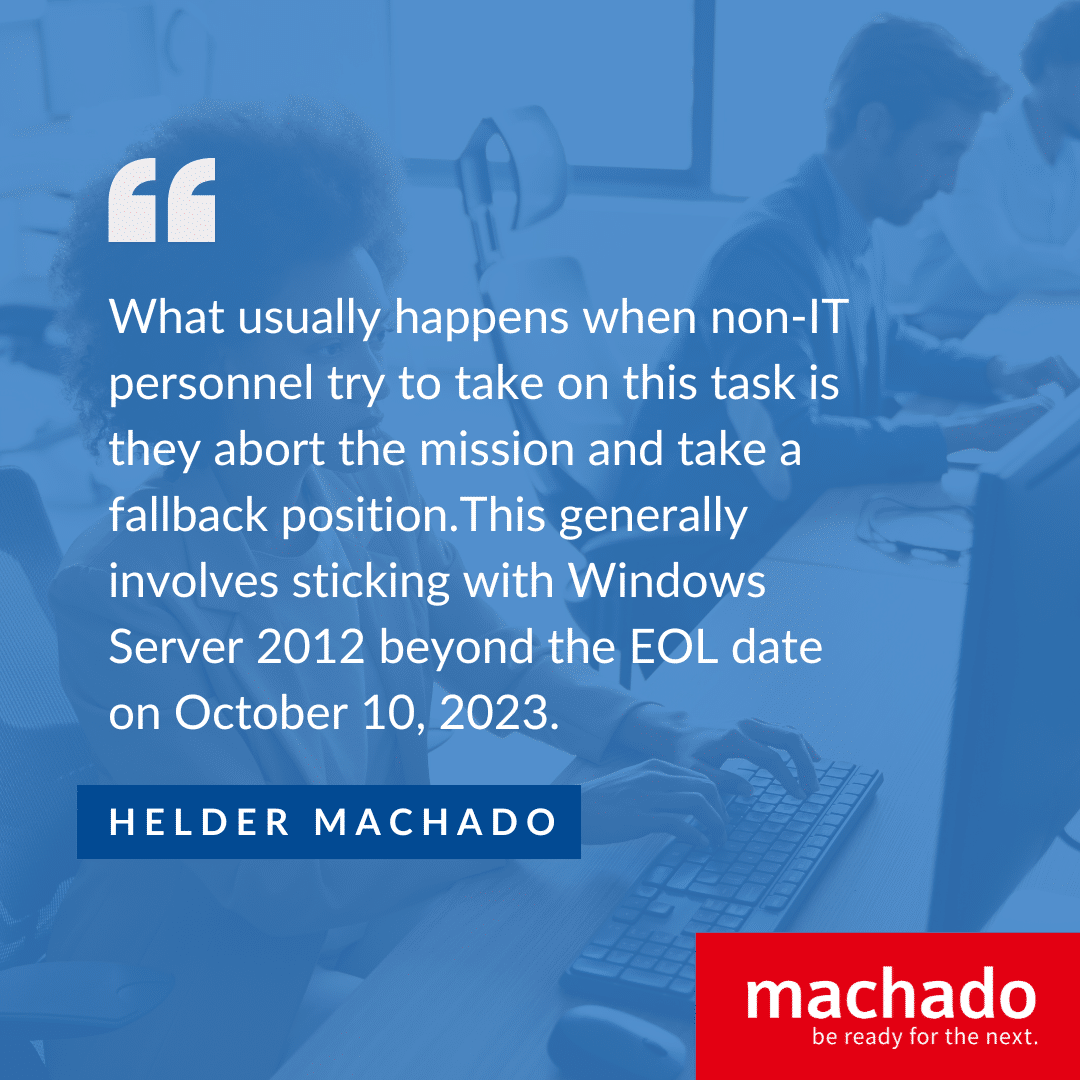 5. Risks of Using EOL Products in Your IT Stack
It's not uncommon for business professionals to take a "don't fix it if it's not broken" position regarding software EOL dates. After all, the legacy system has been operating seamlessly for years, and employees are highly productive using it. While that may be true at the moment, you can anticipate Windows Server 2012 will become less reliable over time. The lack of patching and security updates will eventually take a heavy toll. These are ways using the software beyond its EOL can negatively impact an operation.
Incompatibility:

The rollout of new software will no longer be aligned with Windows Server 2012. That means you will be forced to run older programs because the advanced technology coming out is incompatible.

Inefficiency:

Continuing to employ expired software creates disruption within the network. Users who access outdated software and new programs at the same time may experience crashes. This requires your in-house IT team or Managed Service Provider (MSP) restoring employee devices.

Cost Prohibitive:

Computer crashes leave staff members unable to perform profit-driving tasks. Adding to the loss of productivity, your in-house technician or MSP needs to stop what they're doing. As the software EOL grows, the glitches become more pronounced. These seemingly small hiccups have employees waiting to work and IT professionals putting important issues on hold. Simply put, using the software beyond its end date wastes company resources. 
The Windows Server 2012 end-of-life date is fast-approaching and business leaders have little time to react. It's crucial to consult with a certified Microsoft partner to rectify the problem. If you find your organization still using Windows Server 2012 beyond the October 10 EOL date, the failure to maintain regulatory compliance could prove problematic on several levels.
6. Using EOL'd Products Creates Compliance and Risk Issues
More than 422 million individuals had their online data compromised in 2022, up from just 17.2 million in 2012. Cybercriminals have built a toolbox full of tricks to infiltrate personal and professional systems to steal valuable and sensitive records. But the common understanding of how these online thieves work has been wrongly stereotyped.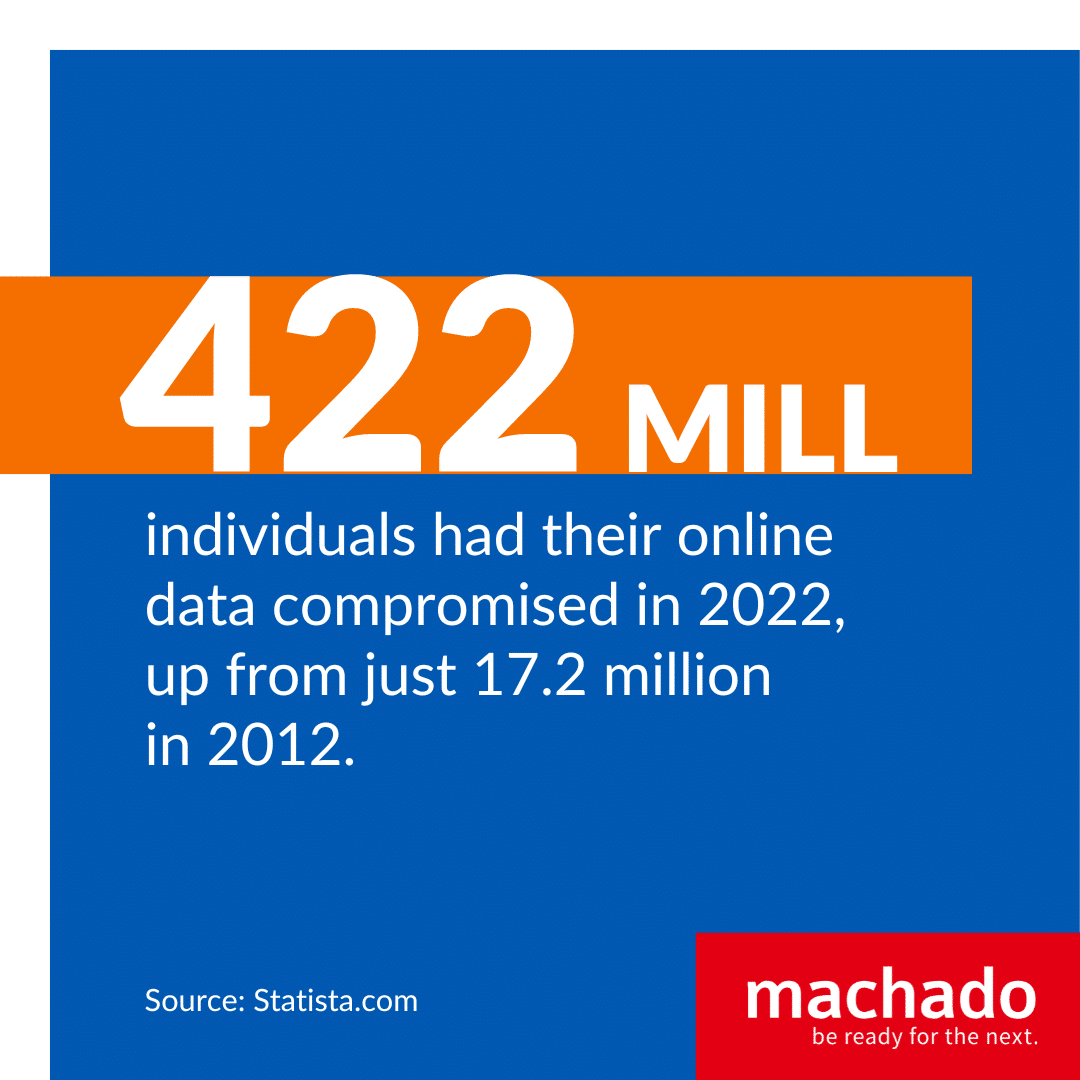 The public and business perception of how hackers operate involves targeting through electronic message phishing schemes, back door ransomware attacks, and brute force. Those are how the multi-million-dollar hacks that garner splashy headlines often occur. That's what happened with the Colonial Pipeline ransomware attack, in which hackers walked away with $4.4 million. But unpatched EOL software also poses a significant threat.
To put the Windows Server 2012 end-of-life issues in perspective, consider the 2017 WannaCry malware attacks. Cybercriminals deployed a file called EternalBlue that effectively exploited Windows XP's end-of-life vulnerability. The virus spread from system to system like a digital wildfire without users doing anything significant to trigger it.
WannaCry then encrypted data and demanded a Bitcoin ransom to unlock entire networks. This exploitation of an unpatched software that trickled past its EOL struck 150 countries, 230,000 unique systems, and racked up $4 billion in financial losses.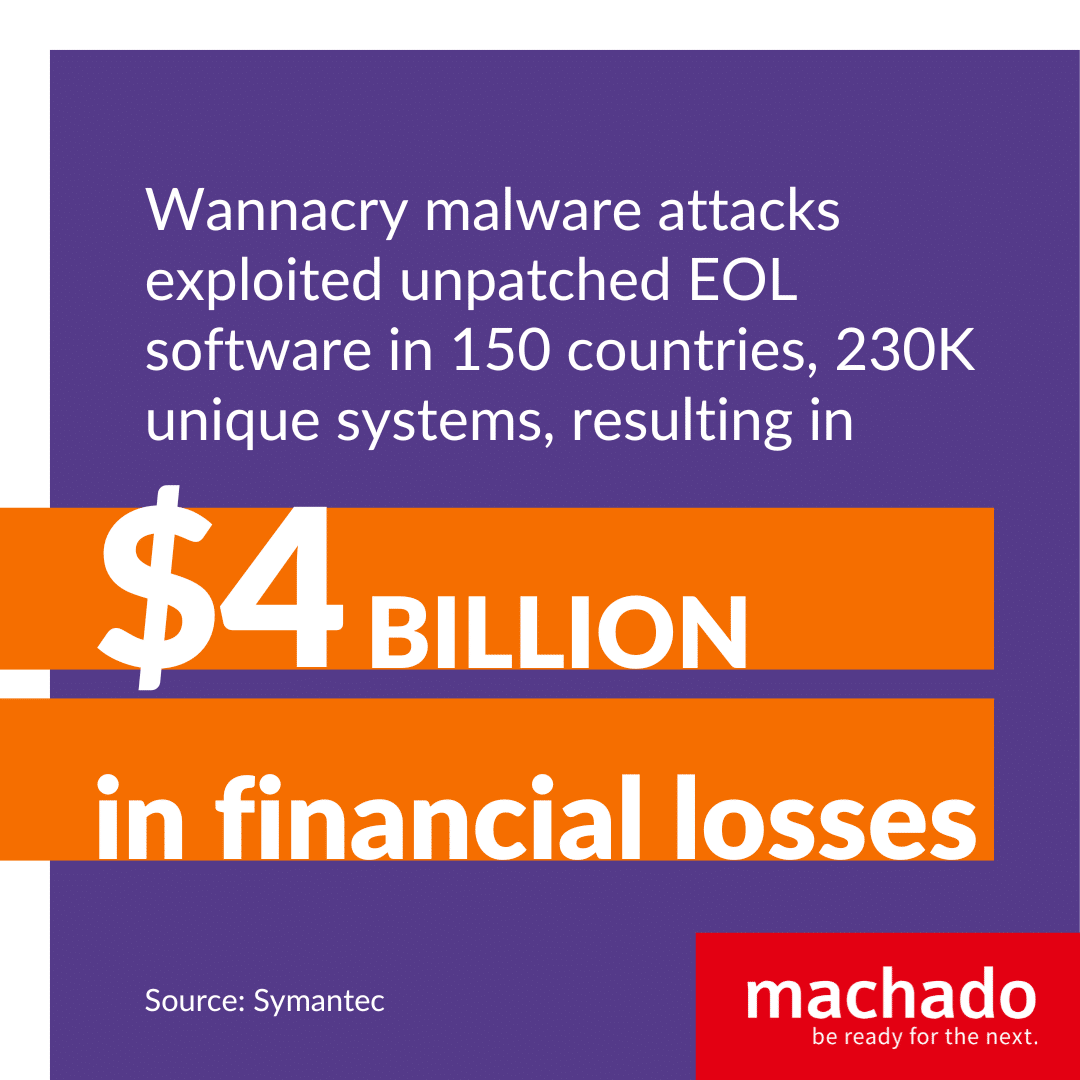 This example illustrates the dangers of using software beyond its EOL date from hackers. Even if you don't get discovered and breached by a digital thief, your outfit could pay hefty fines based on compliance failures. These are government mandates that task organizations with protecting personal identity and other records with diligent cybersecurity.
California Consumer Privacy Act of 2018 (CCPA)

Cybersecurity Maturity Model Certification (CMMC)

Fair Credit Reporting Act (FCRA)

Family Educational Rights and Privacy Act (FERPA)

Gramm-Leach-Bliley Act (GLBA)

Health Insurance Portability and Accountability Act (HIPAA)
Forward-thinking industry leaders take the necessary steps to avoid software EOL issues and the accompanying problems. Maintaining consistent regulatory compliance by upgrading from Windows Server 2012 to a newer version helps ensure hackers won't take advantage of an unnecessary vulnerability. It also protects the sensitive digital assets of your valued customers.
7. A Managed Service Provider (MSP) like Machado is Your Best Partner to Help Manage Your EOL Planning
If you're still operating with Windows Server 2012, it's crucial to promptly craft a plan to transition to another package. The Machado team has deep experience to collaborate with you as your certified Microsoft expert. It's far more cost-effective and productive to make a change before the October 10 deadline with a proven migration plan. Let's talk today about your plan to be proactive when it comes to ensuring you never have to rush to beat a software EOL situation again.
Be Ready for the Next IT Opportunity
Download our guide to learn how you can get more done with your current IT staff.