The IT landscape is continually changing as it adjusts to the current state of business conditions which may require you to pivot at a moment's notice. With these changes, are the ways in which you address how your IT is managed. You may have an in-house IT Department, or perhaps you've outsourced all or part of your IT requirements to a consultant or a Managed Service Provider (MSP). There's another option you should know about today and that's a Co-Managed IT provider.
First, let's address the current business and IT climate. As you've probably experienced yourself, a report on The 2022 State of IT reports that most IT spending continues to follow a COVID-19-directed path, focusing on remote workers (37%), cloud-based services, and enhanced cybersecurity (44%). This year, IT spending has been leaning toward cloud-based and managed services, while hardware and software spending have been slightly declining.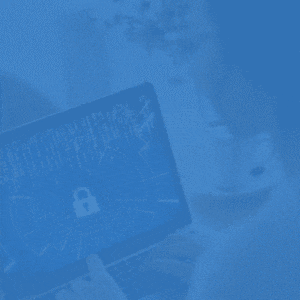 Security concerns coupled with remote employees are generating an increase in managed services. Demand for infrastructure as a service (IaaS) and cloud-based applications are driving increased spending on managed services. As organizations look for MSPs, they are assessing their existing IT infrastructure to determine what service model is ideal for them.
Let's take a look at the service options you are most likely already familiar with and do a deeper dive into the concept of a Co-Managed IT model.
What IT Services Options Should You Consider?
Companies have three options when it comes to IT service and support:
In-house IT: All IT functions are managed by employees.
Managed Service Provider IT: All IT functions are managed by a third party.
Co-Managed IT:  IT functions are shared between internal IT resources and a third party.
Until recently, businesses could hire staff to manage their IT, or they could outsource their IT needs to an MSP. It's been pretty much an all-or-nothing proposition. Today, you also have the option to have the best of both worlds with co-managed IT services.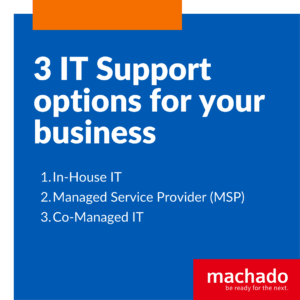 What Is Co-Managed IT?
Co-managed IT is a collaboration between in-house IT staff with your MSP-provided resources to strategize, plan, and implement your technology needs. For example, a mid-sized retailer has a small in-house IT staff that maintains computers and keeps the network running.
The owner wants to move to a cloud-based solution to connect online shopping with brick-and-mortar sales. However, the existing IT staff has no experience in cloud-based solutions. The retailer could hire more staff to support the move, but that would take time and resources.
Opting for an MSP would allow the retailer to acquire the expertise needed to move to the cloud. It would eliminate the need for dedicated on-site IT staff, but the owner isn't comfortable with the idea. A co-managed IT solution lets the retailer keep an in-house staff and acquire the cloud-based expertise that is needed.
How Do Co-Managed Services Work?
Co-managed providers work with in-house IT departments to achieve common goals. Providers work with in-house IT staff to determine existing gaps and decide how to best address them. For example, when an organization has sidelined an IT project that would integrate its CRM with accounting, it's an intensive project, requiring many resources, but needed to improve the operational agility.
In a co-managed environment, the IT department and the MSP would work together to identify how to free internal resources to accomplish the integration. Maybe, the MSP takes over more day-to-day operations, freeing internal staff to work on the integration. Or, the MSP provides added resources to complete the project quickly. The critical factor in a co-managed environment is the mutual identification of need.
The ongoing skills shortage in the IT sector continues to make it difficult for organizations to find and retain staff. It can take months to find candidates and compensation is often outside an existing budget. For many companies, increased IT complexity and costs are the driving forces in moving to a co-managed model.
What Services Are Offered in a Co-Managed IT Model?
Co-managed IT providers vary in the types of services they offer and the technologies they support. According to Gartner, the services provided may include:
Data backup and recovery
Software management
Cloud-based infrastructure
Network monitoring
Device management
Cybersecurity
Cloud management
When looking for a co-managed partner, you'll need to ensure that your potential partners offer the needed resources. Companies need to perform their due diligence when looking for a co-managed service provider.
Why Should You Consider a Co-Managed IT Environment
In 2020, businesses were forced to quickly adopt technologies that addressed a distributed workforce with many employees working from home. The rush led to disconnected applications, redundant tools, competing cloud solutions, and increased security risks. Now, organizations are trying to rectify these deployments, making for more cost-effective operations. Two areas of focus are infrastructure and cybersecurity.
Infrastructure
According to Gartner, managed services of cloud-based infrastructures will reach $81 billion this year. With over 50% of network traffic becoming cloud-based, organizations will need resources to ensure the infrastructure is sound. That will result in a 10% growth in annual spending on managed services in the next year.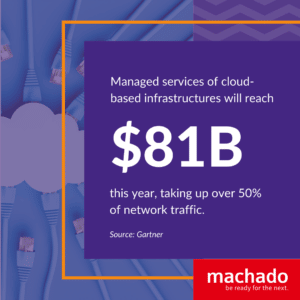 After two years of remote work, many employees want to continue working from home at least part-time. This requirement is becoming non-negotiable, forcing more employers to support remote work at least once or twice a week. According to Gartner, 82% of companies will operate in a hybrid work environment by the end of 2023. Over 90% of IT staff will continue to work from home.
The hybrid configuration requires knowing both on-premise and cloud-based infrastructures. Given the ongoing demands on internal IT departments, many organizations will struggle to support the architecture and maintain the level of network security needed to protect their assets.
Cybersecurity
Cyberattacks have increased since the start of 2020. According to CSO Online, phishing accounts for 80% of all security incidents and organizations lose $17,700 every minute because of phishing attacks. The average ransomware payment jumped to $570,000 in 2021. That's a 518% increase.
As the cybersecurity landscape becomes more sophisticated, IT departments struggle to provide strong network security. With distributed networks, IT staff need endpoint protection as well. Symantec found that close to 97% of mobile devices had high-risk apps installed and that remote devices average 5,200 attacks per month.
US companies are a primary target for cyberattacks. Microsoft reported that almost 50% of all cyberattacks in 2020 were against US targets. With a cyberattack happening every 11 seconds, it is only a matter of time before a business suffers an attack. Given that cybersecurity specialists are in short supply, organizations will look to alternatives to ensure their distributed networks are secure.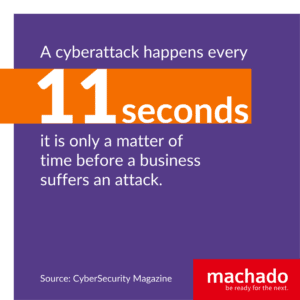 Education
When office workers became remote, they took their in-office mindset with them. They did not think about the network security that was inherent in their office environment. As a result, those endpoint devices became vulnerable.
Although IT departments worked to secure their networks, companies also needed to educate their end-users on security risks. With IT resources stretched to their limit, organizations could only deliver minimal education to their remote staff.
More businesses have added solutions such as multi-factor authentication (MFA) and least privilege access to the security stack. However, they struggle to deliver adequate training as IT resources are still stretched to the limit. Verizon's 2021 report found that 30% of cyberattacks were from internal actors and over 90% were because of human error.
When Is Co-Managed IT Right for Your Business?
Co-managed IT makes sense in environments where budgets are tight and resources are limited. The co-managed IT model helps you migrate to the cloud without jeopardizing cybersecurity. The right co-managed IT provider works as an IT consultant to ensure your digital assets are well-protected and fully utilized.
Tight Budgets
A CompTIA survey found that companies that engaged in an MSP saved money.
50% of companies saved up to 24% in annual IT costs
33% saved 25-49%
13% reported savings of more than 50%
For any organization looking to get the most out of their IT budget, a co-managed solution may be the perfect fit.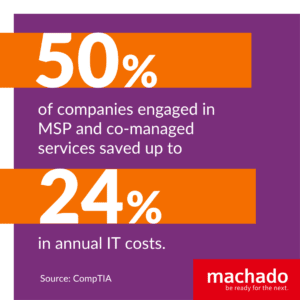 Limited Resources
Smaller IT departments can be disrupted when unexpected challenges arise. New projects or added demand can throw a department into chaos. Even planned disruptions, such as vacation, can impact IT availability. Hiring additional staff may exceed budget constraints.
Larger departments can run into resource obstacles. New projects can stretch limited resources and may require skills that are not available in-house. Finding an external candidate may take too long or be cost-prohibitive. The learning curve may be too steep for in-house personnel, given their existing responsibilities.
Added Projects
Businesses cannot afford to stand still when it comes to their digital transformation. You need solutions that allow your business to maximize internal talent without compromising the existing infrastructure. Whether it's developing a new interface or planning a major upgrade, you will need to look at alternatives to ensure critical path projects aren't left behind.
A recent study found that almost 50% of companies were planning to invest their technology dollars on moving existing projects forward. After several years of putting technology efforts on hold, businesses are feeling the pressure to modernize operations or integrate disparate configurations.
Knowledge Gap
No one person can keep up with technology. Advances simply happen too quickly. Most IT departments are overwhelmed just keeping up with existing implementations, let alone trying to investigate emerging technologies. Partnering with a co-managed IT provider can give you access to a technical repository.
Not only will you gain access to experts, but your IT staff can learn from them as well. By working together, knowledge transfer will improve employee skills and build a stronger in-house department.
Limited Monitoring
Perhaps, the most pressing need for co-managed IT services is end-to-end visibility. This visibility level is essential to effective security management, but it is also crucial to improving operations. Without end-to-end visibility, organizations lack the needed data to ensure networks are optimized and productivity is not constrained.
Constructing a monitoring system that operates in a hybrid environment requires careful analysis of existing and proposed implementations. It requires an understanding of the vulnerabilities that come with a hybrid environment. Not every IT department has the necessary experience and expertise.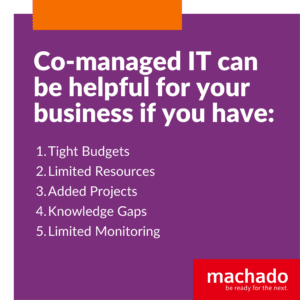 Contact us today to learn about the benefits of working with a trusted cybersecurity partner.
How Do You Get Started with a Co-Managed IT Partner?
Working with a co-managed IT partner begins with taking an honest assessment of your needs. Start by asking yourself questions such as:
Do I need help with IT operations?
Do I want to use in-house resources?
Do I need added staff now?
Do I have unique IT needs?
Do I need around the clock IT support?
Does my cybersecurity posture need strengthening?
If you answered yes to these questions, you may want to consider a co-managed IT service provider.
Let's talk about the co-managed IT services you may need  in network architecture, cybersecurity, business solutions, and managed services. Whether you need help with your infrastructure or technical support, our staff of experts can provide the resources you need to move your business forward.